We collaborated with Motium's Director to update the design of a rugged touch panel personal computer for industrial vehicles. Motium serves large and small customers across multiple markets including marine, aircraft and industrial automation. They needed their panel PC to withstand extreme, rugged environments to an IP65 rating. The PC is installed in heavy duty work vehicles used in harsh conditions. We engineered the new Motium touch panel PC to be extremely tough with high level ingress and drop protection.
We purpose designed, engineered and built Motium's TUFF Panel PC so it gives uninterrupted performance in the harsh realities of working in challenging environments, protected from dust, water ingress, glare, temperature extremes, continuous use and vibration.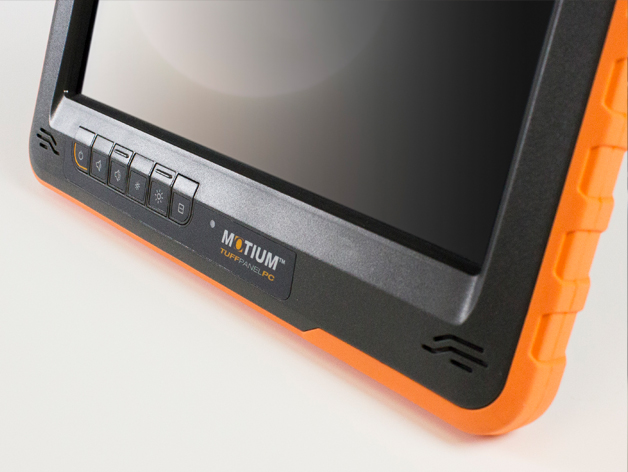 The Motium TUFF Panel is a fully functional PC developed for a wide range of fleet vehicles from small forklifts to large open-cut mining trucks and everything in between. We used our extensive engineering experience in ruggedized design to engineer, test and ensure the TUFF Panel PC met all of Motium's tough requirements.
The built-in industry-standard 75mm VESA bracket provides unrivalled easy-mount integration in a range of cabin locations, in both portrait and landscape orientation for maximum accessibility. The screen's 1280×1024 output resolution display supports monitor rotation, multi-monitor and split monitor configurations to meet customer needs.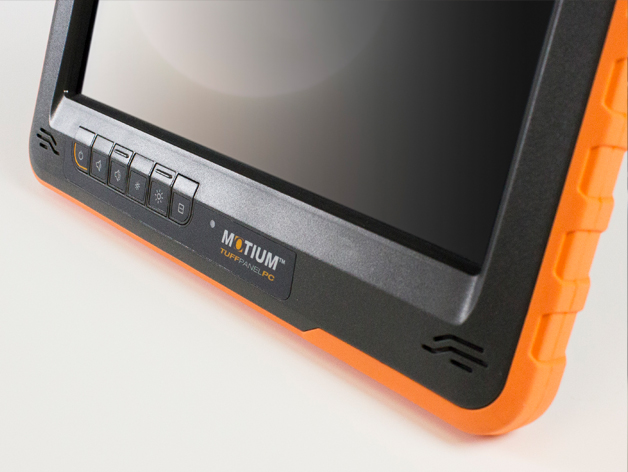 Everything about the device, from the heat-dissipating diecast back casing to the ultra-efficient LED resistive touchscreen display, contributes to extraordinarily low power consumption, for continuous use over a service life of five to seven years, compared to the standard of two.
We designed a hi-vis silicone impact bumper for the PC that doubles as a grip and gasket enabling the fan-less sealed casing to achieve IP65 protection with no maintenance.
The impact resistant 10.4 inch screen has an anti-glare finish with a wide viewing angle.
At only 55mm thick and weighing 2.3kg, the 1020 sets a new standard in an industry where competing products are upwards of 120mm thick and weigh as much as 10kg. The slim-line form of the product, with its thin, floating edges give it a visual lightness while maintaining a ruggedised appearance.
outerspace designed a complex 'lip' seal around the PC's touch screen to protect the product and the sensitive electronics and prevent ingress and damage from water, dirt and other contaminants. The tightly tolerance ruggedised seal is engineered using a two-stage system of complex silicone mouldings.
outerspace engineers integrated the touch panel design with patented Motium electronics, ensuring they are fully protected. To protect the USB port, we engineered a unique bung design and two-part plug that is tightened into position using a mechanical screw and seals.
The PC provides positional information, warnings and communications to and from vehicle operators and control stations. We optimised the key pad layout and design, dividing the button controls to have soft and hard feedback to make the controls easy and intuitive to use while operating a vehicle.
"outerspace proved to be the ideal partner working closely with our hardware design, manufacturing and software teams around the world to realise our vision"​
"Our long association with outerspace has delivered substantial benefits to our development process. This has resulted in medical products that now receive international attention and are achieving record sales."
"A broad range of industry experience from the outerspace team challenged our assumptions and led to a much better design solution."
Operations Manager
Systems Engineer
Mechanical Design Engineer